Hydrogen is Very Good For Your Health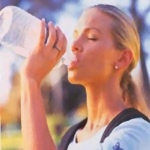 Drinking molecular and atomic hydrogen daily is an ideal health regimen that most people can afford and it is definitely one of the top five health habits that we recommend to everyone! A person who doesn't drink hydrogen rich water doesn't understand the nature of his own being and/or does not understand the opportunity that atomic hydrogen provides in terms of maximizing health and longevity. Human nature is such that people most often hang their hopes for success, including their hopes for good health, on complicated or expensive things and overlook the simple things. The truth is, however, that out of simple daily habits (the very ones that may seem insignificant) grow those successes that are truly great — including enjoying vibrant health — that's what drinking hydrogen enriched water is, a small and simple daily habit. Click here to see other vital daily health habits.
The reason that we single out the importance of drinking hydrogen rich water is that when one drinks water that has been enriched with hydrogen, those hydrogen molecules and atoms enter the body and spread throughout the body and extinguish free radicals (through REDOX reactions), slowing down aging and disease and giving us more energy.
Quenching Free Radicals Is Hugely Important
Free radicals are what cause inflammation, disease and aging, one molecule and one chain reaction of oxidative damage at a time. So, by extinguishing free radicals by drinking hydrogen rich water, we are actively choosing to live a healthier life.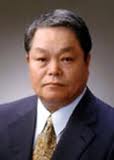 Dr. H. Hayashi, MD began teaching two decades ago that the curative ability of certain legendary, healing waters had to do with the presence of hydrogen molecules and atoms in these waters. He taught that hydrogen atoms help to quench the damaging, oxidative byproducts of energy production called free radicals through a electrochemical process that is at the root of life called reduction. Dr. Hayashi pioneered a way of adding hydrogen atoms and molecules (which become hydrogen atoms in the body) to all the water we drink — enabling us to feel better, live longer, look younger and enjoy life more.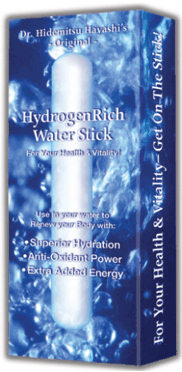 Dr. Hayashi's Hydrogen Rich Water Stick™ is a simple, effective way to have hydrogen rich water available to drink wherever you go. You simply insert the hydrogen stick (6 inches long, 2/3 inch in diameter) into any pint-sized or larger water bottle, and fill the bottle with water, shake and wait at least 15 minutes for the hydrogen molecules to begin propagating throughout the water — some of them disassociate into hydrogen atoms and some remaining as molecules of hydrogen to be converted into hydrogen atoms inside one's body. As soon as the hydrogen enters one's body, the hydrogen starts clearing away free radicals from your body and increasing one's energy. It's that simple, and it is very powerful!
So, we reiterate that In terms of health habits, the habit of drinking hydrogen rich water is possibly the single most important habit for people who intend to live long and healthy. Please review this website, until you understand how and why you need to establish the hydrogen habit in your life.
Read below some of the many benefits of drinking water made from the hydrogen stick and washing your skin with it:
Maximizes anti-aging potential
Improves hydration levels (up to 6 times better than tap water)
Reduces wrinkles
Helps improves absorption of supplements
Helps lubricates joints and muscles
Helps the brain function better
Helps remove impurities from the cells and the body

Helps to maintain/regain optimal blood pressure
Helps reduce headaches, arthritic symptoms and other chronic illness symptoms
Reduces lotion needs by hydrating skin
Reduces sun & wind damage
Helps hydrate hair follicles

HydrogenInMyWaterBottle.com information is presented in view of the Terms of Use and also the Privacy Policy of this web site. Statements herein have not been reviewed by the FDA. These products are dietary in nature and are not intended to diagnose, treat, cure, or prevent any disease.
All information presented on this web site is for informational purposes only and is not intended as a substitute for advice from your physician or other health care professional or any information contained on or in any product label or packaging. You should not use the information on this site for diagnosis or treatment of any health problem. You should consult with a healthcare professional before starting any diet, exercise or supplementation program, before taking any medication, or if you suspect you may have a health problem. You should not stop any medication without first consulting your physician.
Copyright © 2011 to 2017 HydrogenInMyWaterBottle.com All rights reserved.